Prosperity and Obedience to the Lord
Here is a question; does the morality of a nation affect its weather and its prosperity?
At first glance, such a notion would seem silly and unscientific. Consider this. If we hold to the belief that God made everything and that He causes all things to continue, I mean He literally at this moment is holding all things together, would it not be true that spiritual and moral matters are important to a God who is Spirit?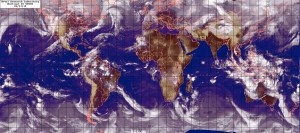 This is different than the agnostic belief of man made global warming i.e. climate change. With climate change we say that man has the ability to destroy what God created by physical processes like driving our cars or using too much hairspray.
What I am presenting is the idea that God changes the weather patterns, for good or ill, in response to our obedience or disobedience to Him. There is a biblical precedence and even a spiritual principle at work here that should not be ignored.
All of creation, including the earth, fell with man. Romans 8:22 tells us, "For we know that the whole creation groans and labors with birth pangs together until now." It was made subject to the curse of original sin, not to be redeemed until the end of all things. As strange as it may seem, sin can make things worse in the earth while God's grace and man's obedience can make things better.
Complicating this baseline principle is the understanding that, like it or not, the United States of America was dedicated as a Christian nation. We have called ourselves by God's name and that brings us under special blessings and curses.
 Deuteronomy 28:1-2 "Now it shall come to pass, if you diligently obey the voice of the Lord your God, to observe carefully all His commandments which I command you today, that the Lord your God will set you high above all nations of the earth. 2 And all these blessings shall come upon you and overtake you, because you obey the voice of the Lord your God:
Please read the whole chapter to understand all that the Lord is saying.
While these words were spoken to physical Israel, there are implications for the world in general and the United States in particular. While the bible does tell us that the rain falls on both the just and the unjust, the rains timing and its affect on prosperity should not be over looked.
America has enjoyed incredible prosperity in its short history. In fact, the wealth that has been created in the world while America has existed is unprecedented. Our nation certainly has not been perfect and has not followed the Lord with its whole heart, but as a greater majority of its people have sought God and attempted to obey Him as best as they understood what that meant, God has blessed America.
The last few decades have seen our country move away from being a Christian nation as a people. We are making a lot of choices that move us far from God and His ways. The Lord has been issuing warnings in many ways. Enemies have breached our security (not just on 9/11), Food is becoming more expensive, and the rains have not fallen like they should. New Mexico and the Southwest have seen more than a few years of drought while the Midwest has seen destructive rains. Hurricanes are predicted to be very active this season. Not to mention the earthquakes and other events.
The point is this. Just as our sin and self indulgence brought about a poor economic and environmental situation. So too, our return to the Lord and the humbling of our nation, and ourselves can restore our country. We should not seek our hope from the Lord not presidents or governors. I leave you with this admonition;
 If My people who are called by My name will humble themselves, and pray and seek My face, and turn from their wicked ways, then I will hear from heaven, and will forgive their sin and heal their land. 2 Chronicles 7:14