Do I Really Need to Go to Church?
I see this question in various forms.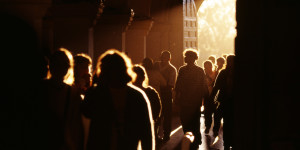 Question: I am a "new" Christian and I have a question that concerns me.  I do not have a church home and to be perfectly honest, I have not found one that makes me comfortable.  There seems to be too much politics involved, so to speak. I believe that Jesus died for me, I study my Bible and I listen to various services on TV and have received much knowledge by doing so.  My life is dedicated to serving my Lord and I do not want to displease Him.  Is it really necessary to have a church home?
Short answer: Yes, it is necessary to have a church home.
Long answer: Most people feel as Groucho Marx, "I refuse to join any club that would have me as a member." Here's the thing, although many churches are closer to clubs than church the real church is not a club.
When we dedicate our lives to serving the Lord it means we have chosen to obey Him in any way we are able. We do not get to pick and choose which of His commands we prefer to obey, rather we hear and we obey.
Not forsaking the assembling of ourselves together, as the manner of some is; but exhorting one another: and so much the more, as ye see the day approaching. -Hebrews 10:25
You may have heard this verse used often to defend church attendance but that does not render it null and void. The assembly is not just a place to gather with other believers. It is supposed to be the place we draw near to God and learn.
Jesus made the statement that a servant is not greater than his master. Are you a servant of Jesus? The next time you sit down to read the gospel narratives take note of how often they mention Jesus being in the synagogue or in the Temple.
If you wanted to find Jesus on the Sabbath and you knew what town He was visiting, go to the Temple or the local synagogue and He would be there. What's more, you would find His disciples there too. Even after the resurrection the servants of Jesus were found in the synagogue or the Temple on the Sabbath. In fact, because the disciples were faithful in their gathering at the Temple on Pentecost (a day commanded by God) they were there to receive the Holy Spirit. So were the thousands gathered that day to hear the Gospel.
I understand that there are difficult people in church. There will be difficult discussions that make us uncomfortable, including political discussions. Understand that politics is how the world around us is run and it should be discussed. Social issues that we may have strong feelings about like abortion and same sex marriage might upset us and drive us away, but should we not attempt to reconcile these issues with what the bible has to say?
Who is in charge of your life and what you believe? You? Jesus?
Jesus told us to seek first the kingdom of God and His righteousness. He also told His disciples to in turn to make disciples, teaching them to obey all that He commanded. Which leads to my next question.
How does a believer choose a church?
There are so many flavors of Christianity. These denominations vary in their interpretation of scripture and to what degree they give God's word authority.
It can take time to find a church and it can take some research to find out what they really believe. I take a straight forward approach. I start by weeding out those denominations that do not value God's word as inerrant and inspired. Depending on how many churches remain, I take my family and visit at least twice to hear the sermons and listen to the conversations of the congregation. I then ask the pastor and his family out to dinner and try to grasp his understanding of the word of God.
I then get feedback from my family (these days it would be my wife and I) and we discuss what we saw and heard. We pray and ask the Lord's will and then we choose.
Once you have joined it is important to be involved. For those still growing in the Lord, get involved in bible study and attend any other services than just Sunday morning. If you feel you are more mature spiritually, then you should pray about being involved in leadership but still be involved in bible study. A real disciple in Jesus never stops learning, did I say never?
That's it. If you claim to be a servant of the Lord, you will do the Lord's will. The Lord's will is for you to gather with other believers and dedicate yourself to prayer and bible study as well as serving others and keeping God's ways.
One last thought. If there is truly not a church that you feel is biblical and capable of making disciples unto the Lord, maybe you should pray and consider starting a bible study with other like minded people. This should always be the last choice because there are churches with a good foundation who need committed believers to complete the body of Christ. I would say the last thing we need is another church but we do need faithful people who will work to make church better for everyone.
If you have a question you would like Pastor Paul to address email him today, paul@askthepastornm.com